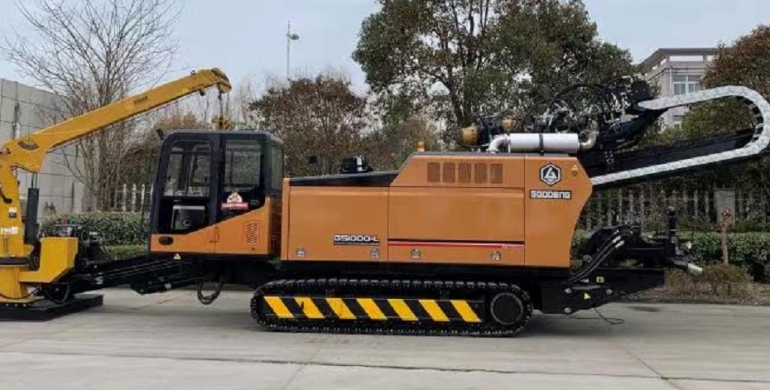 1、 Equipped with Cummins turbocharged engine with strong power, stable performance and lower fuel
consumption than other engines;
2、 German thrust & pullback device which is equipped with Rexroth motor with simple transmission
structure, reliable performance. Thrust & pullback multi-stage variable speed and the thrust & pullback
force can be raised up to 1470 kN,. The working efficiency and speed is leading in industry;
3、 Equipped with French Poclain high pressure plunger motor which can realize the rotation multistage
variable speed and greatly enhances the work efficiency;
4、 Adopt excavator double-speed motor which walks at the speed up to 5 km/h. The short-distance jobsite
transfer doesn't need to be loaded on the truck.
5、 Low clamping center can protect the drill rod effectively, and takes up small construction space. Front
and rear wrench can be separated, and the clamping can change block according to drill rod specification.
6、 The floating spindle is in favour of protecting drill pipe thread.
7、 Four-link amplitude mechanism is adopted and the angle range is large (10°~19°). The drilling rig
center of gravity is lower and the stability is better;
8、 Proportioned line control walking system that ensures the safety of rig and personnel in process of
walking, loading and uploading.
9、 Rotary Manipulator is Goodeng's patent. The rill rods slip automatically, so there is no needed to
unload drill road with people to save labour charge-
10、 The on-board operating room has large space and can be rotated, which is equipped with warm and
cold AC.
11、 LCD man-machine interactive system can monitor and adjust the state of the equipment in real time.
The operation is simpler and more comfortable.
12、 There are two operation systems, automatic operation system and manual operation system.
Watch More: Magitech Equipment