Our company can provide 254-1600mm (10″-72″) HDD rock reamer with roller cones. The roller cone reamer fit for all sorts of rock formation.
Enquiry about HDD Rock Reamer With Roller Cone

The cone bearing is designed with metal seal or o-ring seal. IADC114-637 tooth type is available for different formation. Cone Lock is used for preventing cone falling off when bearing failed.
LIGHT-WEIGHT ROLLER CONE REAMER FOR BIGGER HOLE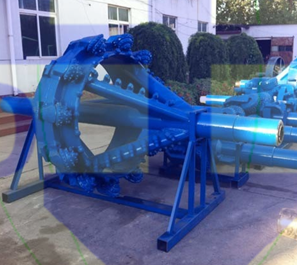 DOUBLE STAGE ROLLER CONE REAMER
Parameters
STANDARD ROLLER CONE ROCK REAMER PARAMETERS 
| | | | | | |
| --- | --- | --- | --- | --- | --- |
| No. | Reamer Size | Shaft Size | Thread Type | Type of extra cone | Number of Cones |
| 1 | 16″ | 168 | 410-411 | 8 1/2MT OR TCI | 4 |
| 2 | 18″ | 168 | 410-411 | 12 1/4MT OR TCI | 3 |
| 3 | 20″ | 178 | 410-411 | 12 1/4MT OR TCI | 5 |
| 4 | 22″ | 178 | 410-411 | 13 5/8MT OR TCI | 5 |
| 5 | 24″ | 203 | 620-621 | 13 5/8MT OR TCI | 5 |
| 6 | 26″ | 203 | 620-621 | 13 5/8MT OR TCI | 5 |
| 7 | 28″ | 203 | 620-621 | 13 5/8MT OR TCI | 5 |
| 8 | 30″ | 203 | 620-621 | 13 5/8MT OR TCI | 5 |
| 9 | 32″ | 203 | 620-621 | 13 5/8MT OR TCI | 5 |
| 10 | 34″ | 203 | 620-621 | 13 5/8MT OR TCI | 6 |
| 11 | 36″ | 228 | 620-621 | 13 5/8MT OR TCI | 6 |
| 12 | 38″ | 228 | 620-621 | 13 5/8MT OR TCI | 8 |
| 13 | 40″ | 228 | 620-621 | 13 5/8MT OR TCI | 8 |
| 14 | 42″ | 228 | 620-621 | 13 5/8MT OR TCI | 8 |
| 15 | 44″ | 228 | 620-621 | 13 5/8MT OR TCI | 8 |
| 16 | 46″ | 228 | 620-621 | 13 5/8MT OR TCI | 8 |
| 17 | 48″ | 228 | 620-621 | 13 5/8MT OR TCI | 10 |
| 18 | 50″ | 228 | 620-621 | 13 5/8MT OR TCI | 10 |
| 19 | 52″ | 228 | 620-621 | 13 5/8MT OR TCI | 10 |
| 20 | 54″ | 228 | 620-621 | 13 5/8MT OR TCI | 10 |
| 21 | 56″ | 228 | 620-621 | 13 5/8MT OR TCI | 10 |
| 22 | 58″ | 228 | 620-621 | 13 5/8MT OR TCI | 12 |
| 23 | 60″ | 228 | 620-621 | 13 5/8MT OR TCI | 12 |
| 24 | 62″ | 228 | 620-621 | 13 5/8MT OR TCI | 12 |
| 25 | 64″ | 228 | 620-621 | 13 5/8MT OR TCI | 12 |
| 26 | 66″ | 228 | 620-621 | 13 5/8MT OR TCI | 12 |
| 27 | 68″ | 228 | 620-621 | 13 5/8MT OR TCI | 14 |
| 28 | 70″ | 228 | 620-621 | 13 5/8MT OR TCI | 14 |
| 29 | 72″ | 228 | 620-621 | 13 5/8MT OR TCI | 14 |
| 30 | 72″ | 228 | 620-621 | 13 5/8MT OR TCI | 14 |
ALL ROCK REAMER CAN BE CHANGED WITH SHAFT SIZE,THREAD,TYPE OF CONE AND IADC CODE FOR YOUR NEED